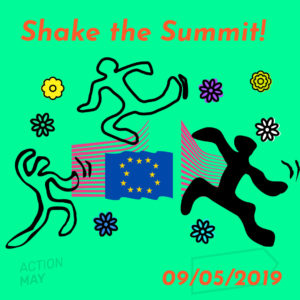 On May 9
th
2019, EU leaders will draw the outlines of the "Future of Europe" during a summit in Sibiu. Despite ever more urgent calls for constitutional assemblies, our leaders have failed to involve the people of Europe in this process. Treating Europe as an elite issue, however, will not solve the current crisis of integration. "Europe Day" 2019 is our chance to show that European civil society is ready.
Let's show European leaders that transnational democracy is alive ! Let's show them that people's assemblies are already a reality! Let's reclaim the agenda! European May will do this by organising Alternative Assemblies where the people will be heard who normally aren't. 
How
One common frame – many provocative, interconnected and live streamed debates !
In the afternoon/evening of May 9th, citizens assemblies will be held in Amsterdam, Berlin, Paris, Warsaw and hopefully many more cities. These assemblies provide an opportunity for citizens to:
Voice their own opinions on the issues discussed in Sibiu
Put important issues ignored at the summit on the agenda
Exchange with citizens in other cities
Show that Europe's people are ready to design the EU's future!
A schedule for exchange sessions between groups (social media streaming, live calls) will be provided, as well as the opportunity to join online discussions for those that cannot be physically present at an assembly.
The 9th of May steering committee is happy to provide all the help it can to support your organizational activities. Middle of April we will provide you with a tool kit, including suggestions for formats and practical tips for organization! By April 14th, we will send you suggestions for debate topics, in case you require inspiration/information on same issues.
After May 9th, we will collect the results of and send to Donald Tusk as well as assembly participants, so you can call on your local EP candidates to act on the results!
Events Happening:
Amsterdam 18:00 – 21:00 8th of May! 
Alternative Assembly with progressive organisations coming together and envisioning a new future for Europe. We will start at 18:00 with some shared food and we will end the night by watching Ajax playing the Champions League.
Warsaw 17:30 – 19:30 9th of May 
Alternative Summit with three Panel discussions
Paris 
Alternative Summit in Paris. Come join us in the garden and take the microphone to discuss the future of Europe!
Berlin 17:00 – 20:00
Alternative Summit!
Please Fill in the Form to register for the Meeting in Berlin.
Funding partner:

Follow us