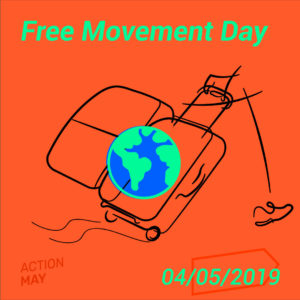 On May 4th, simultaneous actions and demonstrations will be organised at symbolically important locations across Europe to declare free movement as a human right, a right for all. No human being chose the place where they were born. Instead, every person should be recognized as having the right to choose where to live and to stay.
We want to reclaim free movement, the right we cherish the most in Europe, through creative actions! We demand an end to racial profiling, an end to immigrant detention, and an end to inadequate and inhumane housing provisions for migrants, refugees, and asylum seekers.
Where
Lisbon 12:00 – 15:00 
Patrolling Imaginary Borders
Lisbon 16:00  – 19:00 
Migrant's stories: picnic where refugees and migrants share their experiences about crossing borders in an outdoor circle in a park, with anyone who wants to join.
Athens 
At the Victoria square, we will arrange a series of events: a concert with band and workshops for children. More information coming soon
Ljubljana 12:00 – 14:00 
A whole cultural event: Poetry in Slovene, Arabic and English. One woman show, signing a social contract "Commitment to vote for a progressive Europe where freedom of movement is an essential human right for all", a Musical performance and an Open mic.
Vienna 13:00 – 19:00 
Pan-European Picnic at the Austrian-Hungarian border
Mainz
Patrolling Imaginary Borders
Berlin 
A welcome committee at the Hauptbahnhof
Dublin 12:00  -13:30
Stephen's Green picnic: share food, discuss free movement, and sing songs of solidarity with those whose movement is restricted
Belfast 12:00  – 13:30
Victoria Lock picnic: share food, discuss free movement, and read some poetry + walk/cycle to the Irish border to engage where some of us will engage in a performance piece highlighting the barbarity of political borders.
What will happen
We will be holding events across Europe: in cities such as Athens, Berlin, Dublin, Lisbon, Mainz, Ljubljana, Vienna, and more. Some of these events will take place at symbolic borders, others outside important political buildings. In Berlin, for example, we will have a demonstration at the site of the Berlin Wall. On the Irish border we have performances organised by migrants, and in Slovenia we will have an open mic session detailing the need for free movement.
Join our action today!
You don't need to live in a major city to join in this day of events – you can do it in your hometown, and it can be as small or as large as you'd like. The more of us that highlight the need for free movement, the more our message will spread. We can show people all over Europe, and the world, that free movement is a transnational demand. Rise up with us to defend free movement, open borders, and a Europe for all!
On May 4th, we declare:
Freedom of movement is a human right, a right for all

: No human being chose the place where they were born. Instead, every person should be recognized as having the right to choose where to live and to stay.
We are all migrants:

Everybody moves around whether it is a matter of choice, necessity or survival.

Free movement has been under threat since the crisis of hospitality in Europe broke in 2015, with people fleeing war and poverty being inhumanely detained, refused asylum, or deported back to their home country. Worse, the crisis is also instrumentalized to limit and restrict free movement within Europe, affecting also European citizens, especially those of colour as well as EU citizens' third country family members.
Everyone moving around should see their fundamental rights guaranteed:

freedom of movement does not only imply the right to employment and to make a living where one resides. The rights to entry and residence are always accompanied by the right to access justice, to housing, to healthcare, to unemployment, that are necessary for people moving around to plan a new, safe life wherever they live.
Europe has a historical responsibility for refugees and migrants in need, and this responsibility includes ensuring they are safe

: the current attitude of the European decision makers could be described as 'out of sight, out of mind'. If the migrants are not arriving on the European territory, or do not die on the European side of the sea, then it is not its responsibility. We declare this way of thinking as profoundly wrong and we have a responsibility as host or indigenous communities to welcome those in danger.
Anyone actively standing for freedom of movement, should be imprisoned or criminalised as a result of their claims:

The recent trends of criminalising humanitarian organisations rescuing migrants in the Mediterranean Sea, such as SOS Méditerannée, should be clearly condemned and denounced. Immigration detentions centers or any kind of structure welcoming refugees should be unconditionally accessible for civil society members and for journalists.
Follow us