#Standtogether #Unionsnotborders – For a solidary Europe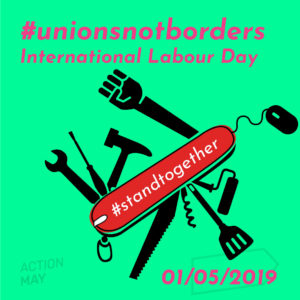 More and more people are threatened by housing displacement and even homelessness despite working part- or full-time. Workers all over Europe are being entangled in a struggle for social justice that is contested by investors and businesses mainly looking out for lower costs and bigger profit-margins. Money does not work!
On the 1st of May, European May joins the people who take the fight for workers' rights to the streets. As European May, we solidarise with the 45 million members of the European Trade Union Confederation (ETUC) and workers around the world. Together we celebrate the idea of solidarity without borders.
We support strong and unitary labour unions that negotiate collective agreements with employers and have a significant say in EU decision-making. We demand a European Green New Deal to save our planet and ensure a just transition towards a hopeful and sustainable digital era! Together we crank up the volume for gender equality, fair wages, and quality jobs for all. Let's celebrate the fight for better working conditions for care workers like teachers, hospital staff and domestic workers, whose crucial work too often goes unrecognized! We support those who fight for the rights of migrant workers who are particularly vulnerable to exploitation. We support those who fight for the welfare of workers in every country because our struggles are connected. An attack on any of us is an attack on all of us. Together we make noise to amplify workers' voices in all the companies and parliaments in Europe!
Our goal is to bring together progressives on the 1st of May – to show that progressives and workers are one. We need to trasnationalize workers' struggles and unions' actions. At the same time, we need to bring these actions and struggles to us transnational activists and our progressive circles. Only together we can make the change happen for a social Europe
How
1.) European May and other movements (e.g. Euro Bubbles) are organizing a #UnionsNotBorders bloc among the traditional May demonstration. Let's be loud so we will be heard! Let's let our colours fly so we will be seen! Stand up for your future!
2.) European May will be organizing additional actions that drive attention to labour issues in diverse places through social media. For instance, our friends in Bratislava are putting together a First of May barbecue in their communal space "Bike kitchen" to create awareness for common struggles. Share your local actions on social media and your community with the #UnionsNotBorders
Where
Online Organised by Levfem in Sofia
Feminism and Exploitation: Share your stories of Work Harassment and Unpaid Care Work.
#StandTogether in:
Lisbon 12:00 – 15:00  
12:00 Check out which companies stay open having their workers working on the workers' Day.
15:00 Let's join the march of the international workers' day and walk down Avenida da Liberdade together.
Berlin 12:00 – 15:00
European May joins the traditional May DGB Bundesvorstand/ ver.di demonstration "Europa. Jetzt aber richtig!" in Berlin and we are going to be loud!
Mainz 11:00 – 13:00 
European May will organise a bloc for a solidary Europe at the May 1 demonstration
Lund 29th of April 17.00 
Signmaking event to join the demonstration on the 1st of May in Malmö.
Contact
If you have questions about how to organize locally, how to facilitate conversations, how to register demos and how to set up your own bloc or you want to learn about or share best practices, contact us!
We are glad about every single action and participation – Europe needs your workers voice!
Follow us