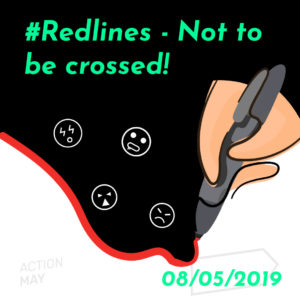 One of the founding drivers of the European Union is the idea – in light of the of atrocities of the Second World War – to make wars impossible in Europe by creating strong economic and cultural links between its member states. Therefore the basis of the European project can be seen as an anti-fascist strategy. This European idea is facing strong opposition: Radical right wing ideas are approaching the center of society and the center of the European Parliament.
The idea of united Europe was to make fascism impossible to return. The return of fascism is a red line – not to be crossed.
/ Making it possible to return again – is a red line – not be crossed.
The fact, that Radical right wing ideas are approaching the center of society and the center of the European Parliament is for us a crossed red line.
On May 8th, international day for remembering the victory over fascist Germany, we organise an extensive performative action and campaign whereby citizens are showing the red line they draw in opposition to new forms of right-wing politics and neo-fascism in Europe. It invites to draw red lines physically in public space, leaving public marks, or symbolically by wearing a red cloth or scarf during the timed performative action. The red line performance is based on a simple symbolism, that can be self-made and easily replicable, anywhere in Europe. It is designed to create highly appealing visuals for media to pick up on and create a European-wide 'media-event'.
We will make a movie showing what redlines means for us. We will hand out red threads.
The street performance will be accompanied by a strong social media component, inviting people to publish their own stories when a #redline has been crossed for them. Together with the visuals it sends out a Europe-wide wake up call activating those who stand up for democratic and humanitarian values and raise the media attention on these topics in sight of the upcoming EP-Elections.
Call-To-Action Tool-Kit
   

Knit the red thread around somebody's wrist

   

Give the person the little rolled paper message with red-thread around it

   

Let the person unwrap it

   

Ask the person to distribute it to others

   

Print the template for the little messages and it give it to 10 other people
Call to Action for 8th of May – Action
   

On the morning at 8 o'clock you go out in your city's street – takt with you red chalk or graffiti or red tapes – and draw/spread the redline in a busy place/street or in front of place where a redline is crossed for you. E.g. MEP Office in your town / nationalist party offices / candidate / whatever you consider.

   

Document it and post it with #Redline

   

Rip of you red wrist band.

   

Fascism is smashed!
Social-Media
   

Always using #Redline

    Tag

 the Instagram @EuropeanMay account

    U

se Twitter with Quotations asking: "Do you want his in the EP? Let's not cross this red line."
Actions Happening in:
Warsaw 08:00 – 11:00 
Red Line to be placed 
Mainz
We will follow the route of a Nazi students march in the 1930's which ended in book burnings. We will spray a red line all the way and write the names of victims of fascist violence onto the ground.
Lisbon 19:00  -22:00
Anti-racist conversations
Follow us